Our recruitment process
To be sure that we choose the right people to join us on our journey, we invest a lot of time and commitment in our recruitment process. On this page you can learn more about our recruitment process and some tips and tricks to consider as a candidate.
The process
For us to get a clear picture of you as a candidate as possible, our recruitment process consists of several steps. If you proceed after the first interview, the following steps will follow:

2nd interview
Case
References
Decision & Sign
TIPS FOR THE INTERVIEW
We want to share a few tips with you regarding how you best can prepare for the coming interview. Our experience is that it helps you as a candidate to give a clear picture of who you are if you prepare yourself before an interview. Additionally, the interview becomes more effective for both parties.
OUR METHOD
When we hold interviews, we use something called a competence-based interview technique. This might sound complicated but is easily explained by that we believe that the right personal traits and competencies in order to succeed in your job.
Therefore, we will mainly be focusing on your personal traits and competencies during our interview. You will probably notice quite soon that we are eager to hear about more situations and occasions where you have previously experienced, where you have used these competencies.
WHAT KIND OF QUESTIONS DO WE ASK?
Most of the questions you will be asked will begin with "Tell me about a situation where you have..., Describe a situation when you have..., Give me an example of an occasion...". The aim with these questions is for us to get an understanding of the situation, why you acted as you did and what the result was. It is important that you give concrete examples. We would like you to avoid answers that begin with "It happens daily..., | usually...,". We believe that you tell the truth on these occasions, but we are meticulous in getting a concrete situation in order to understand the situation from as many angles as needed. We will ask follow-up questions to get an even more clear picture. We have no knowledge of your previous positions or specific employers, which may some details seem obvious, so they might need further explanation.
HOW CAN YOU PREPARE?
You have two important tools to use when preparing for the interview. The first tool is the job ad. Our goal is to be as clear as possible in the job ad regarding what personal traits and competencies we are looking for and we will most likely ask you about these. The second tool is your own CV. Use these two tools and think of concrete situations from your previous jobs and education where you have shown these competencies that we have asked for in the job ad.
Meet our Talent Acqusition Partners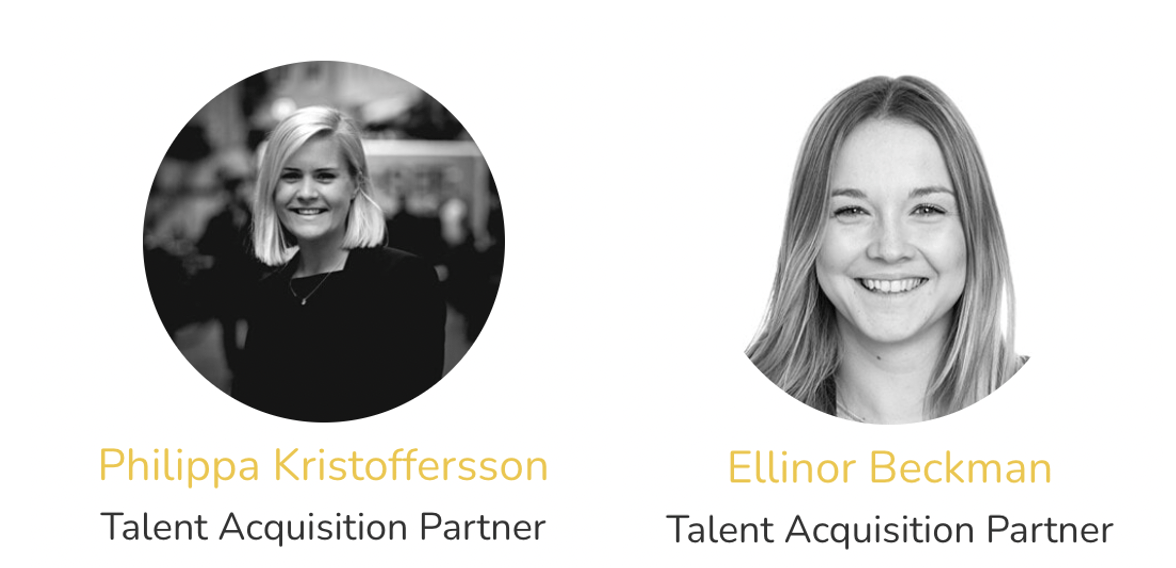 Can you describe your work in the process, what do you think is the most important, how important is the candidate experience for you and how do you work with it?

Philippa:
"We always strive to have a candidate-centric recruitment journey, which for us means that we will have a clear and transparent recruiting process, an honest and relevant dialogue with the candidates around our Employer Value Proposition (EVP) and how it is working at Scrive, and of course to have an efficient and rapid feedback throughout the process.

People are our greatest asset and finding the right people to join our journey is something we never want to compromise on. We aim to build diverse teams to bring out the best in each other and to work with people that challenge us. Therefore it's crucial that we have a well-defined recruitment process where we have a clear and transparent communication with our candidates."

Ellinor:
"Working at Scrive as a Talent Acquisition Partner we really want to create a comfortable environment for our candidates to be in. We're passionate about finding a creative way to support our managers recruiting the best candidate to the right position in a fast paced company like Scrive.

Since we are growing in a fast pace, it is really important that we find and match the right candidate to the right position. Sometimes you apply for a position, but end up in another that is better suited for you and it is our job to evaluate and guide our candidates through that process. We try to be creative and flexible in our communication with candidates and we of course always try to be as honest as possible."